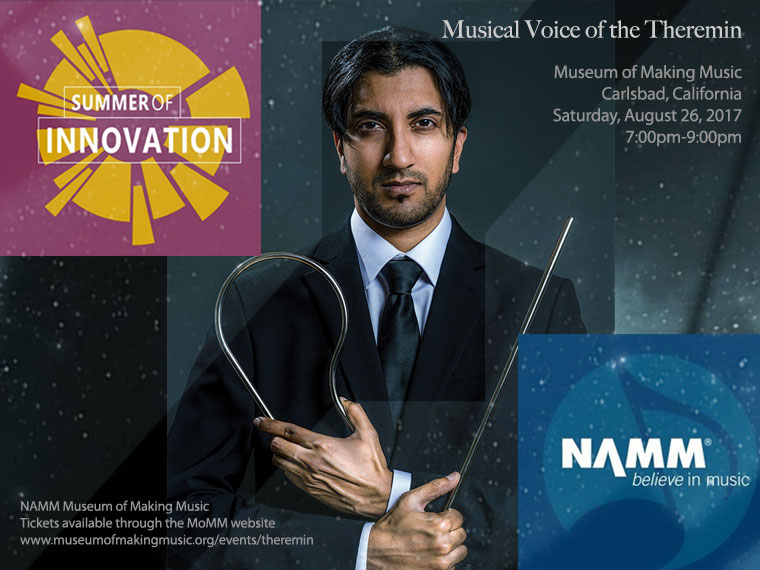 August 26, 2017, Theremin Concert at the NAMM Museum of Making Music!
This will be a special evening of music and fun, definitely not to be missed if you are in or around the San Diego Area. The concert will feature a good variety of theremin music from as many genres as I can cover. I'll also be armed with never before seen/heard technology and inter-connectivity. It will be the first public show where I utilize my real-time Audio to MIDI tracking software, MIDI Merlin, in Live Performance as I control synthesizers and automate harmony!
Musical Voice of the Theremin, featuring Randy George, theremin; Matt Piper, guitar, bass, electronics; Kevin Yokota, drums, percussion
The NAMM Museum of Making Music in Carlsbad, California. The performance is presented in conjunction with the Museum's Summer of Innovation Special Exhibition featuring exhibits by Ableton, Roli, Stylophone, Photonic, EchoThief and more.
Date and Location:
Saturday, August 26, 2017 at 7:00pm to 9:00pm
5790 Armada Drive, Carlsbad, CA 92008
Phone: (760) 438-5996
Tickets available through the MoMM website.
NAMM Museum of Making Music event page:
https://www.museumofmakingmusic.org/events/theremin
Summer of Innovation Exhibition Info:
https://www.museumofmakingmusic.org/summer-of-innovation
Facebook public event page:
https://www.facebook.com/events/289753578103552/