Visual Pitch Preview Display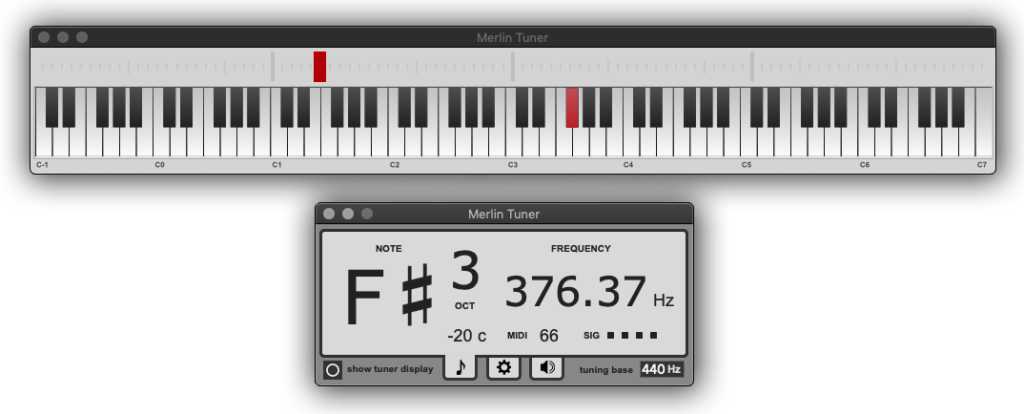 I'm very excited to announce and publish a new software product! Last month, July 2021, I was invited to present two workshops on my theremin playing approaches for the 2021 edition of Theremin Academy, this time hosted by Lydia Kavina and Thierry Frenkel. In conjunction with the event and my presentations centered around vibrato and theremin technical development, I decided to publish a new software tool.
Its name: Merlin Tuner
It is a versatile theremin training tool in the form of a precision equal temperament semitone tuner. Its core functionality was extracted from my previous software release MIDI Merlin, which I will wholeheartedly admit has been a golden key in unlocking the most mind bending aspects of precision theremin playing technique. Now, after proven success in my own development, it's time to share the technology with the theremin playing community. Merlin Tuner offers much greater accessibility and ease of use compared to MIDI Merlin due to being much simpler in design and in package distribution.
See theremin pitch reflected back to you in real-time
With a desktop Mac or Windows computer, an installation of Cycling '74 Max software and a computer audio interface, it's easy to get started building a new level of awareness in precision theremin playing technique, body stability, and calibration, among a host of other difficult-to-nail-down theremin nuance.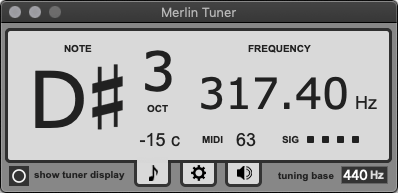 Merlin Tuner is software that runs on a connected desktop computer, that can be used for improving a great number of aspects of theremin playing. The key difference between this and any typical hardware or software tuner boils down to one thing: timing.
Visit the Merlin-Tuner page on RandyGeorgeMusic to learn more and to purchase securely from my web store's product link. The introductory price is $15 USD.