Hybrid carrying case and performance harness for the Haken ContinuuMini
The Performer Case features a compact design that is very close to size and shape of the Haken ContinuuMini making it comfortable to handle and convenient for storage and travel.
Details
» Constructed from laser cut birch plywood
» Lightweight durable protection for the ContinuuMini
» Secure form fit design with foam lined interior
» Exterior lined with fine grain leather textured vinyl
» Removable case lid with magnetic latch system
» Adjustable strap length of 31"-55" (79cm-140cm)
» Multiple performance harness configurations
» Access port for audio, mini-USB, Aux jacks
» Included pack of 6 low profile screws for ContinuuMini
» 2 included silicon bands for attaching/securing accessories
» 2 included fabric loops to assist instrument removal
» Dimensions: 1 1/4″ x 2 7/8″ x 21 5/8″ (33 x 74 x 548.5mm)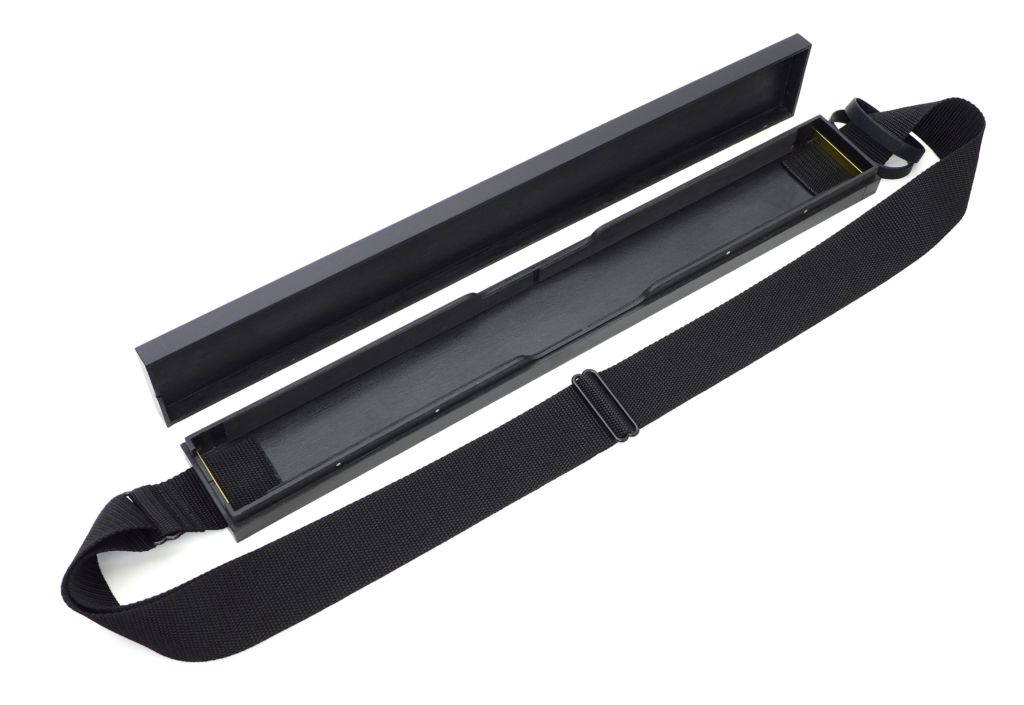 Customization friendly Accessories Pack
The optional accessories package includes a zippered storage pouch, velcro strap mount, a 1.5ft USB type-A to type-B (mini) cable, and 4ft 3.5mm stereo audio cable.
A portable battery power supply can be placed in the zippered accessories pouch and connected to the ContinuuMini with the short 1.5ft USB cable. A self-powered speaker (not included) can be mounted to the shoulder strap using the included silicon support bands, making a portable system ready for untethered amplified live performance!

The image above is a desktop configuration including a portable power supply and amplified ContinuuMini system built around the Performer Case.
(speaker and portable power source not included with case)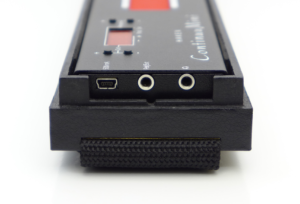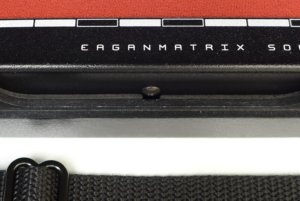 Performer Case features convenient access to the I/O port for easily connecting straight or right-angle 3.5mm audio/Ext and Type-B Mini USB cables. The EVA foam lining has cutout sections to accommodate the ContinuuMini's protruding chassis screws.